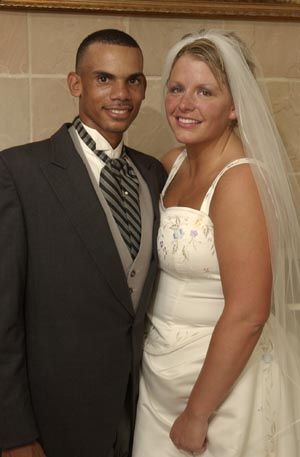 Miss Jennifer Bryan Scott and Mr. Barry Arnett Cole were united in marriage on Saturday, May 29, 2004, at the home of Doctors Rany and Francis Cherian in College Station, Texas. The Honorable Judge W. T. Tom McDonald, Jr., of Bryan, Texas, officiated the double ring ceremony.
Jennifer is the daughter of Mrs. Elizabeth Lyne Scott of Bryan and Mr. Richard Lee Scott of Shreveport, Louisiana. Barry is the son of Mr. Leonard Earge Cole of Clarendon, Arkansas and the late Mrs. Evelyn Fay Gonder Cole.
Mrs. Katie McCleney, of Bryan, sister of the bride, served as Matron of Honor. Flower Girls were Bailey Ann Cole, daughter of the bride and groom, and Haley Marie McCleney, niece of the bride, both of Bryan. Mr. Charles Franks, of Magnolia, Arkansas, served as Best Man. Ring Bearer was Colton Blake McCleney, of Bryan, nephew of the bride.
Jennifer is a graphic arts major at Southern Arkansas University. Barry received a degree in Ag Business from Southern Arkansas University. He is currently employed by John Deere in Magnolia, Arkansas.
Following a honeymoon to Rockport, Texas, the couple will reside in Magnolia, Arkansas.