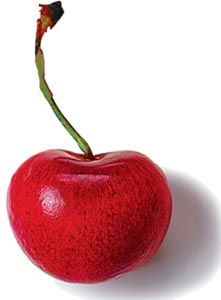 Bing cherry season is the time to dip into the cherry baskets — or to dip the cherries themselves into one or more of the four easy dipping sauces suggested here. No cherry pitting needed before serving.
Crimson and juicy, Bing cherries are often the most fun eaten straight out-of-hand. But let's be versatile. Trying out these sauce combinations could be a self-indulgence, or the occasion to make a treat for others, family or guests. Serving cherries this way is conducive to leisurely dining and conversation.
Filling a big bowl with the fruit, and placing a choice of dips around it, would make a colorful centerpiece not only for dessert but also for a bridal shower, afternoon tea, weekend brunch or outdoor barbecue.