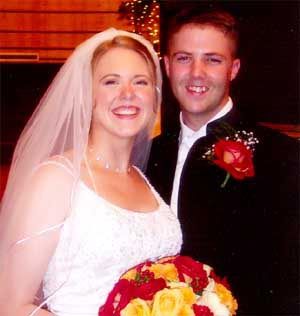 Nicole Marie Starck and Kenneth John Fleming, Jr. were united in marriage on November 20, 2004, at First Baptist Church in Bryan, Texas. Dr. Tim Owens officiated the double ring ceremony. A reception was held at The Kyle House in Bryan following the ceremony
Music was provided by John Tuss as the pianist, Byron Moore as the guitarist and Katherine Hale as the soloist.
Thad Hutcheson was the master of ceremonies and also provided the music at the reception.
The bride was dressed in a natural white, full-length wedding dress. The dress was made of satin that was trimmed with lace, pearls and sequins. The train was made of embroidered tulle. The ball gown wedding dress had a scoop neckline with two pairs of pearled spaghetti straps. The bodice was intricately embroidered with lace, pearls and sequins. Finally, the bride wore a two-layered, delicate veil with a thin trim of white satin.
Parents of the bride are Raymond Edward Starck of Cadillac, Michigan and Crystal Kay Nelson of Midland, Texas. Mother of the groom is Debra Ann Fleming, of Brenham, Texas.
Maid of Honor was Robin Marie Cowart of Muleshoe, Texas. Bridesmaids were Meghan Marler of Portland, Texas and Sarah Fleming, sister of the groom, of Brenham. Flower
Girl was Juliann Hoffman, cousin of the groom. The bridemaid's dresses were made of an eloquent latte color satin. These dresses were full-length with satin spaghetti straps. The bodice was lightly beaded on top with the beading continuing on down the back of the dress.
Best Man was Cody Halfpop of Iowa. Groomsman was Nathan Edge. Ushers were Ryan Starck, brother of the bride, of Austin, Texas, Tim Brown of College Station, Texas, and Robert Wyatt of Corpus Christi, Texas.
The bride has a Bachelor of Science Degree in Health. The groom is a Korean Linguist for the United States Air Force.
Following a honeymoon to The Mariposa Ranch, the couple will reside in South Korea.
The bride and groom would like to thank the Lord for providing abundantly for their wedding. They had tremendous help from Mrs. JoEllen Cowart, Mrs. Jane Hale, Trish Langley, Thad Hutcheson, and Tamara Hale. The bride and groom are very thankful for their family and friends.