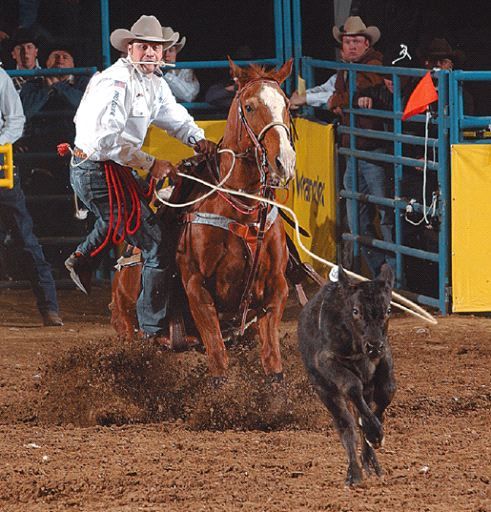 At the relatively elderly age of 25, the legendary calf roping horse Topper had what it took to carry his mount to the pay window until his unexpected death in April.
Topper, who was owned by eight-time National Finals Rodeo tie-down roping qualifier Stran Smith, was killed in a hit-and-run accident after opening a gate and wandering onto U.S. Highway 287, which runs in front of Smith's home in Childress, Texas.
"I knew this day would come, but it caught me unexpected," Smith said. "He still had a lot in his tank."
In late March, Smith finished second at RodeoAustin, a sizeable winter show. It was his first rodeo after being sidelined for several months after undergoing surgery on his right shoulder, and he saddled Topper, the top tie-down roping horse of the Professional Rodeo Cowboys Association/American Quarter Horse Association in 2003 and 2005.
"He always gave me a chance to win," Smith said of the horse, who also carried renowned ropers such as Roy Cooper, Cody Ohl, Fred Whitfield and Trevor Brazile to big paydays. "But now, I don't have that safety blanket."
Smith said he had planned to ride the savvy senior only at the more lucrative shows such as the Calgary Stampede in Calgary, Alberta, and the National Finals Rodeo in Las Vegas.
Smith had owned Topper, who died on April 5, for the past four years. He said Topper (whose registered name was Topofthemarket) was very intense both at the rodeo and during practice sessions.
"He's a lot like the famous basketball player Michael Jordan, who would make his opponents look silly even in practice," Smith said. "The reason being was Michael Jordan understood that same intensity would carry over into the game. Topper had that figured out as an animal. He would bring his game into the practice pen just like he did at the rodeo.
"And if you didn't have your A game on, you could actually get hurt. You never could go 75 percent. I never could relax and take the day off."
Brazile, the defending world all-around champion from Decatur, Texas, said Topper always was determined to excel.
"It didn't matter whether it was a 36-hour drive to a rodeo or whether the rodeo was down the road, he was 150 percent every time," Brazile said.
But Topper had an opposite side to his all-business personality. The horse became overly gentle when Smith loosened his saddle.
"When you loosened that cinch and unsnapped the tie-down, that was his signal that practice was over," Smith said. "Then, you could put my baby on him."