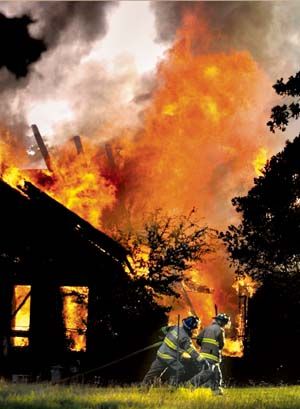 Fire consumes house south of Bryan
Eagle photo/Dave McDermand
The house of Dr. Carl Shirk, his wife, Lesley, and son, Stephen, burns behind a pair of firefighters who hurried to take positions to fight the blaze that destroyed the home off Leonard Road in south of Bryan in Brazos County.
Stephen Shirk sat next to his mother on the end of a trailer Monday night, his bare, muddy feet dangling over the edge as the two silently watched flames destroy all but the shell of their brick home.
"When we first got here I tried to get in the back door, but [the firefighters] wouldn't let me," the 18-year-old said, explaining that his intention was to save his pets.
The animals — a Labrador named Gracie and a cat named Bean Bag — are believed to have died in the fire that consumed the country home on Leonard Road south of Bryan.
The family had lived there for 11 years.
By the end of the night, firefighters had concluded foul play was probably not to blame for the blaze. Instead, they said, the culprit was most likely a faulty water heater or clothes dryer.
"It appeared to have started at the garage area and spread through the rest of the house," said Captain Darrel Rust of Brazos County's Precinct 4 volunteer fire department. "We got it knocked down, but the house was just too far gone."
Bryan firefighters also responded to the blaze that started about 5:30 p.m.
While the main house was completely destroyed, family members voiced hope that a smaller guesthouse located just yards away might be salvageable.
"But I don't even know if that's habitable," homeowner Lesley Shirk said, adding that there aren't even beds inside if it is.
Firefighters said the smaller building suffered smoke and water damage. Some of the personal items inside the guesthouse will be salvageable, Rust said, but the family will probably have to stay in a hotel.
But Stephen Shirk, who lost his sandals in a pasture when he returned home to the blaze and rushed to round up his panicking horses, was still able to see a bright side to the ordeal.
"My dad is a doctor and was out of town," he said, temporarily breaking the silence as he sat on the trailer. "He could have been here sleeping [when the fire started], so I guess we're pretty lucky."
Be the first to know
Get local news delivered to your inbox!