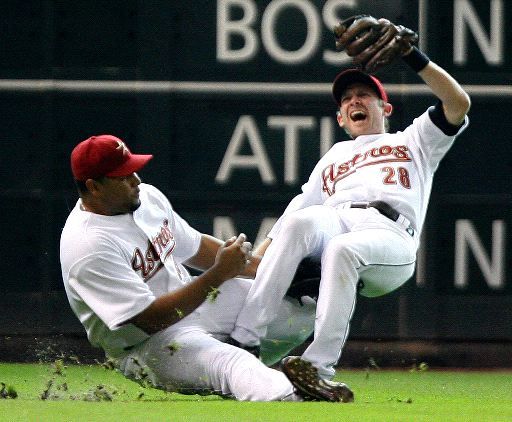 HOUSTON - Rookie Kurt Suzuki has gotten a lot of help from Jason Kendall since being called up from the minors a few days ago.
On Thursday it was Suzuki who helped Kendall out, getting his first major league hit in the 11th inning to set up Kendall's game-winning RBI-single in Oakland's 6-5 win over the Houston Astros.
"I've watched Jason and how he sets guys up," an excited Suzuki said. "He's definitely been a big help to me with scouting reports and telling me how to set people up. He's given me some good hints and that has really helped."
Suzuki, who was called up from Triple-A Sacramento on Sunday, got his pinch-hit single after a single by Bobby Crosby with one out in the 11th. Kendall's hit was a line drive to left field off Brian Moehler (0-2).
"He's swinging the bat a lot better in the last week or so," A's manager Bob Geren said of Kendall. "He has been working real hard with [hitting coach] Ty Van Burkleo every day and it's starting to show."
Santiago Casilla pitched a perfect 11th for his second save in two tries. He hasn't allowed a run in eight appearances since joining the team from Triple-A on June 3. Alan Embree (1-0) got the win after pitching two scoreless innings.
"I can't say enough about what the bullpen did," Geren said. "We had six relievers who came in and did their job. To throw all those zeros on the scoreboard was just remarkable."
Oakland took the series with the win, and has won five of its last six games and 10 of 12. It was the second 11 inning game in this series for these two teams, after Houston won 5-4 on Tuesday.
It was Houston's fourth loss in five games.
Things went from bad to worse on Thursday for Astros shortstop Adam Everett, who had errors in both the first and second innings before fracturing his right leg in a collision with Carlos Lee in the fourth.
Everett was backpedaling to left field to chase a fly ball when Lee came forward and slid into him, crashing into his right leg and sending him to the ground. Neither player came up with the ball.
Lee got up immediately, but Everett remained on his hands and knees and writhed in pain until trainers reached the outfield. He was picked up, placed on a cart and taken for X-rays which revealed the fracture.
"I didn't want to mention it to anyone out there because I was hoping for the best, but when we collided, I heard something snap," Lee said. "So I knew it wasn't good."
Astros manager Phil Garner said Everett will miss four-to-eight weeks.
"It was a bad day no question," Garner said. "It was very frustrating that we couldn't win the ball game. That hurts, and losing Adam hurts also."
Brad Lidge pitched a perfect ninth and retired the first two batters in the 10th before a single by Mark Ellis. Lidge intentionally walked Nick Swisher before striking out Eric Chavez to end the inning.
Chris Burke and Craig Biggio both had singles in the 10th inning for Houston, but Swisher caught a long fly ball by Mark Loretta to send it to the 11th.
---
Rangers 6, Pirates 0: PITTSBURGH - Kameron Loe threw eight shutout innings and Gerald Laird, Jerry Hairston, Jr. and Travis Metcalf homered for Texas, which snapped a three-game losing streak.
Loe (2-6), called up earlier Thursday from Triple-A Oklahoma, allowed five hits and three walks with a career-high seven strikeouts. He had been sent down to the minors last week after giving up nine runs in 2 2/3 innings in an 11-4 loss to Detroit. Loe, who had never gone deeper than seven innings in an outing, did not permit a Pirate to reach third base.
---
Nationals 3, Orioles 1: BALTIMORE - Ryan Zimmerman singled in the tiebreaking run in the eighth inning to back Jason Simontacchi's best start of the season, and Washington completed a three-game sweep of slumping Baltimore.
Felipe Lopez and Ryan Langerhans also drove in runs for the Nationals, who have won five of six. It was Washington's second sweep of the season, its first on the road since June 2006 in Milwaukee.
Simontacchi (4-4) allowed one run, nine hits and four walks in seven-plus innings. Chad Cordero worked a perfect ninth for his 10th save.
Jay Gibbons drove in the lone run for the Orioles, who stranded 11. Baltimore has lost 10 of 12.
---
Yankees 7, Diamondbacks 1: NEW YORK - Alex Rodriguez drove in two runs, Andy Pettitte breezed for eight innings and the Yankees won their ninth straight game, beating the Arizona Diamondbacks 7-1 Thursday.
At 33-31, New York matched its high point this season - a vast improvement for a club that was eight games under .500 and 14 1/2 games behind Boston barely two weeks ago.
Pettitte (4-4) gave up a run and four hits. He retired 10 straight batters in the middle innings and kept out of trouble - Arizona was hitless in its only two at-bats with runners in scoring position and 0 for 13 in the series.
Rodriguez drew a bases-loaded walk in the first inning, doubled home a run in the third and added two singles. He has 21 RBIs in his last nine games and 68 RBIs overall.
---
Angels 9, Reds 7: CINCINNATI - Vladimir Guerrero's bases-loaded single in the seventh inning helped Los Angeles move to 42-25, the best start in franchise history.
Bartolo Colon (6-2) got the win despite trailing when he left the game after the sixth.
---
Brewers 6, Tigers 5: DETROIT - Ben Sheets became the second pitcher in Milwaukee Brewers history with 1,000 career strikeouts, helping the Brewers win a road series for the first time since late April.
Sheets (7-3) struck out seven, giving him 1,003 since making his major league debut with the Brewers in 2001. Teddy Higuera has the franchise record with 1,081 strikeouts from 1985-1994.
Sheets gave up three runs, eight hits and three walks over 5 2/3 innings.
---
Padres 7, Devil Rays 1: ST. PETERSBURG, Fla. - Justin Germano won his fifth straight decision since coming up from the minor leagues, helping the first-place San Diego Padres remain atop the NL West.
Germano (5-0) allowed three hits in six innings, walked one and struck out four. The 24-year-old rookie right-hander, who has a 2.36 ERA, was supported by an unearned run in the first and six more runs in the last two innings.
---
Cubs 5, Mariners 4: CHICAGO - Cesar Izturis hit a two-run double in the eighth as the Chicago Cubs denied Jeff Weaver his first victory for Seattle.
Weaver, winless in six decisions with a 12.46 ERA entering the game, gave up 10 hits in six strong innings and was staked to a 4-3 lead heading into the eighth.
But reliever Brandon Morrow (3-1) walked the first two batters he faced, and Koyie Hill moved them up before Izturis' liner down the left field line put the Cubs ahead.
---
Rockies 7, Red Sox 1: BOSTON - Garrett Atkins went 3 for 5 with a grand slam, Kaz Matsui added three hits and Boston's Josh Beckett lost for the first time this season.
Beckett (9-1) allowed six runs and 10 hits with a walk and a strikeout in five innings and left trailing 6-0.
The Rockies won for the eighth time in 11 games and improved to 33-33 for the season - the first time they'd been at .500 since losing on April 14. Colorado is 6-0-1 in its last seven series, and has won a franchise-record four straight series on the road.
Jeff Francis (6-5) pitched five shutout innings, allowing seven hits and two walks while striking out two to win for the fifth time in six decisions.
---
Indians 3, Marlins 2: MIAMI - Back in the majors for the first time since April 2004, Jason Stanford carried a shutout into the seventh inning and Cleveland held on for the win.
Stanford (1-0) allowed six hits and one run while striking out seven in six-plus innings for his second major league win - the other was Sept. 26, 2003. He retired 10 straight at one point, capping his return from elbow reconstruction surgery three years ago.
Victor Martinez homered, doubled and scored twice and Casey Blake singled in the eighth inning to extend his hitting streak to 23 games for Cleveland. Joe Borowski pitched out of trouble for his 19th save in 21 chances.
---
Twins 3, Braves 2: MINNEAPOLIS - Mike Redmond capped a three-run rally in the ninth inning with an RBI single for Minnesota against Atlanta closer Bob Wickman, ruining Tim Hudson's strong start.
Hudson dominated for 7 1-3 innings, and Rafael Soriano recorded the last two outs in the eighth. But the Twins hit a bunch of bouncers to scrap together a wild rally in the ninth against Wickman (1-2).
Luis Castillo grounded a single past third base for a leadoff single. Michael Cuddyer drove him in with a one-out triple, and Justin Morneau reached on a chopper to first base.
---
Royals 17, Cardinals 8: KANSAS CITY, Mo. - Mark Teahen had two triples and five RBIs, Tony Pena Jr. had four hits and Kansas City got its first series win at home against St. Louis in six years.
Thirteen batters went to the plate in the eight-run second inning and 10 batted in the six-run fourth for Kansas City's feast-or-famine offense.
The Royals have averaged 9.57 runs in their seven wins this month. In six losses, they average 1.5 runs.
David DeJesus and Emil Brown both had three RBIs and Alex Gordon homered for the second night in a row.
Kip Wells (2-11) was charged with six runs on three hits and four walks in 1 1/3 innings.
He lost his eighth straight decision.
Royals starter Scott Elarton was almost equally ineffective, lasting only two-plus innings and allowing six runs and five hits with three walks. Reliever Zack Greinke (4-4) pitched four innings and gave up a run and four hits for the win.