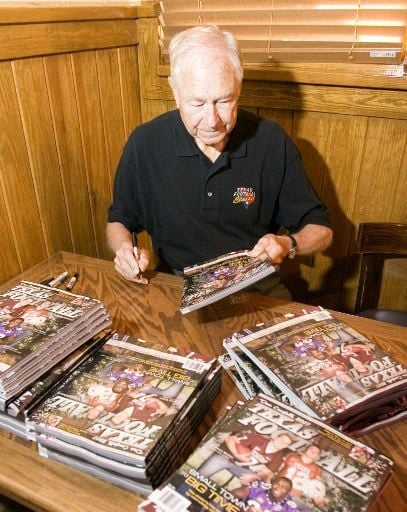 The namesake of Dave Campbell's Texas Football magazine highlighted a celebration of A&M Consolidated football Friday.
A cover subject dropped by for good measure.
Dave Campbell, the founder and editor-in-chief of the magazine, signed copies of the 48th edition of his highly anticipated work at Outback Steakhouse, while Texas A&M quarterback Stephen McGee was a surprise guest at the event.
McGee, from Burnet, shares the Texas Football cover with TCUs Tommy Blake of Aransas Pass and Texas quarterback Colt McCoy, who played high school football at Tuscola Jim Ned. The trio is the focus of a cover story entitled "Little Town, Big Dreams."
It was the fourth stop on the Dave Campbell's Texas Football "Road Tour" to promote the Toyota Tundra Texas Football Classic. Five games will be held in the San Antonio's Alamodome over a three-day period. The Classic will open with San Antonio Alamo Heights playing San Antonio Clark on Thursday, September 6.
Consol will meet Leander at noon on Saturday, September 8.
"When the magazine first appears, it causes a lot of conversation. A lot of people find they have been eagerly awaiting it and we gotten where we aim to have it circulating by Father's Day," said Campbell, who started the magazine in 1960 after frustration over coverage in national publications.
"The national magazines were giving us a lot of misinformation and had a lot of typographical errors and they were totally ignoring the Texas high school scene, which Texans are so passionate about," Campbell said. "I just thought a magazine that would send knowledgeable people to the college campuses to get fresh information and then get copy on high school football, hopefully on each team [would be successful]. If you put that in magazine form, I thought it would go well."
Campbell said the magazine went well "artistically."
"The first year I lost $5000. The second year I lost three $3000, and that was when five thousand and three thousand were real dollars. The reaction was so good I never did think about giving it up or turning back. So, here we are 48 years later, still going."
The magazine has outlasted the Southwest Conference and continued its coverage after the birth of the Big 12. Its high school football coverage has grown from approximately 800 schools to roughly 1,300.
Friday's get-together featured the A&M Consolidated cheerleaders with Campbell and A&M Consolidated football coach Jim Slaughter addressing a crowd of more than 200. Several Tiger players also attended.
The tour visits the hometowns of all 10 teams set to play in the Texas Football Classic.
"I'm hopeful because of all this up-front stuff we are doing for the game, that we'll have a big crowd there," Slaughter said. "I'm one of those guys that used to be the first one to find that magazine and go get it, because it's almost like a Bible when it comes to Texas high school football. This is neat."
Campbell says the teams involved in the Classic have a genuine appreciation for it.
"They haven't been in such a glamorous setting like the Alamodome before," Campbell said. "It comes at a time that we kick off the season and this is a lid-lifter for high school football in Texas. We're just pleased to be a part of it."
Slaughter didn't hide his excitement, either.
"I've played in nearly every venue in the state of Texas," Slaughter said. "I've never played in the Alamodome, so I'm looking forward to getting to play in there. It's new for me, too."
Campbell and the Road Tour packed for a trip to San Antonio. They will be at Alamo Heights at 9 a.m. Saturday for the start of a 7-on-7 tournament. Slaughter, who had just returned from a coaching clinic in San Angelo, can appreciate the effort.
"This is one of the things I can use when I'm trying to motivate them and say 'Work hard, guys, lift weights, pump that iron,'" Slaughter said. "We're going to be playing on TV before a lot of folks in a great venue."