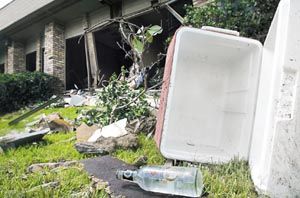 Bryan man crashes into side of Budget Optical
Eagle photo/Patric Schneider
A Bryan man slammed his pickup into the side of a Budget Opticals store on Briarcrest Drive early Saturday, setting the vehicle on fire and punching a hole in the building.
The accident caused at least $50,000 in damage to the building, firefighters estimated.
Bryan police cited the driver, 18-year-old driver Lee Leonard, for failing to control his speed.
Upon arriving at the scene at about 1 a.m., officers noticed Leonard and his passenger pouring alcohol from a cooler, Bryan city spokesman Jay Socol said.
No arrests have been made, and the accident remains under investigation. The man passed a field sobriety test at the scene, Bryan Police Sgt. Shane Bush said.
Leonard and his passenger were driving eastbound on Briarcrest when Leonard's white 2000 Chevy 2500 pickup hit the building, Socol said.
"They were apparently trying to push the vehicle out of the building to flee the scene, but then the truck caught fire," he said.
Firefighters were able to extinguish the blaze, and no one was injured.
Deep mud tracks remained in the business' manicured lawn Saturday evening, carving a trail to a gaping hole in the brick wall that exposed two office rooms. An eye poster and a cracked mirror remained on one of the internal walls.
A wall separating the rooms, however, was partially obliterated by the impact, adding drywall to the pile of building materials, broken glass, mangled blinds and crushed shrubbery spilling out onto the lawn.
A red cooler sat askew next to the rubble. Near it was an unopened bottle of an alcoholic beverage covered in dust and an empty Bud Light bottle.