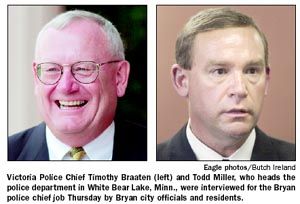 Bryan interviews last of chief finalists
The final two candidates for Bryan's vacant police chief job took their turns interviewing with a pair of panels Thursday and will now wait as the group ponders which one it will recommend to the city manager.
Timothy Braaten, the police chief in Victoria, and Todd Miller, who heads the police department in White Bear Lake, Minn., met with groups of city officials, residents and officers in morning and afternoon sessions. The pair also toured the city and local landmarks.
Thursday's format was the same as the one used Wednesday for the first two candidates to interview, former Port Arthur Police Chief Melbourne "Duke" Gorris and DeSoto Police Chief William M. Brodnax.
Braaten was the first candidate to complete the interview process Thursday and said he was impressed by the Bryan-College Station area.
He said he believes he would be a good fit for Bryan but knows the decision is out of his hands.
"At this level, it's been my experience that we're probably all qualified, we just might not be the right fit," he said. "They need to see if we're the right fit for them, and we need to see if Bryan is the right fit for us."
Miller said he was impressed with the interview process and believes his background in community policing would be a good asset for the department, which adopted the philosophy under former Chief Ken Burton.
"From what I can determine, my skills and experience mesh well with the city of Bryan," he said. "That certainly makes the city attractive to me, because some of the basics are already here."
City spokesman Jay Socol said the Bryan Police Department will complete more thorough background checks on all four candidates, and the panels will reconvene over the next couple of weeks to discuss their findings and decide which candidate to endorse.
If the panels cannot identify a clear-cut top choice to recommend to City Manager Mary Kaye Moore, the field may be pared and additional interviews could be set up, Socol said. A second round of interviews would probably take place in about three weeks.
Moore has final authority to choose the next chief and hopes to have him in place by Aug. 1.
Be the first to know
Get local news delivered to your inbox!