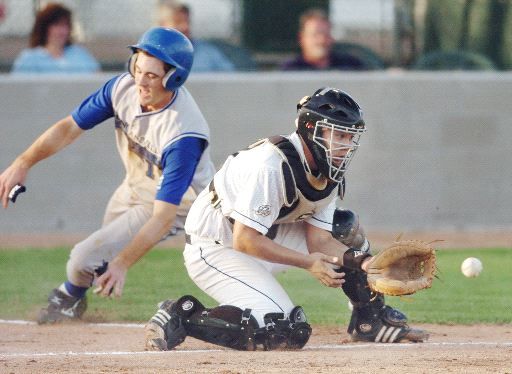 For once, the Brazos Valley Bombers didn't have to worry about the rain clouds overhead.
But instead of being able to enjoy Saturday's good weather, the Bombers struggled to pitch, hit and field, leading to a dreary night at Brazos Valley Bank Ballpark.
The Duncanville Deputies took advantage of the Bombers' erratic play for an 11-2 Texas Collegiate League victory before an estimated 600 fans.
Action started under rare sunshine -ÊSaturday night's game was the only one of four scheduled TCL games played across the state -Êbut it didn't take long for the Bombers to muddle things up.
Duncanville jumped on Bomber left-hander Scooter Hicks for seven runs in 2 2/3 innings.
Hicks struggled with control. He walked three and hit a batter with three of them scoring. The Deputies, who were hitting a league-low .196, had three hits with runners in scoring position to build their 7-0 lead.
The biggest bow was a two-out, slow-bounding single into center field by left-handed hitting Brandon Kendricks that chased Hicks.
"That put a fork in us almost," Bombers' manager Kevin Moulder said. "They had some seeing-eye hits, but we gave them a lot."
No. 9 hitting Hicks, who also had an RBI force play in the second, was 3 for 5 as the Deputies had a season-high 15 hits.
Three other Deputies had multi-hit games, including Taylor Krick, who was 0 for 10 for the season prior to Saturday's game.
Krick was 3 for 4 with a walk and was hit by a pitch. Leadoff hitter Jimmy Commerota and Matt Williams each had two hits.
All Duncanville starters had safely reached base by the third inning except designated hitter Curtis Joseph, who was injured in the first inning when he stepped awkwardly on first base.
The Bombers committed a season-high seven errors, never retiring the Deputies in order.
Duncanville batted only three batters in the sixth because Kendricks was thrown out trying to advance after reaching on an infield hit. A good throw by Bombers' second baseman Kyle Sisney retired Kendricks, saving the Bombers another error.
The anemic Bombers' offense managed only five hits off Duncanville right-hander Ricky Testa (2-1). He was followed by three pitchers who each hurled a hitless inning.
It's a long summer, every know and then, you're going to have a game like this," Moulder said. "But that was fairly embarrassing. I told the guys we have to have a little more pride than that.
"We were pretty much bad in all facets of the game."
The Bombers (7-9) slipped to last place in the four-team Tris Speaker Division. Duncanville (6-7) climbed into a second-place tie with Colleyville, a game back of Coppell.
The Bombers, who have had six games rescheduled because of weather, will get a chance for rare back-to-back games Sunday by playing host to the Marshall Marshals, who have the league's best record at 9-3.
"The good news is we come out and play early tomorrow [3:05 p.m.]," Moulder said. "We can't have back-to-back performances like that. Is it going to happen once a summer? Maybe. But it is still unacceptable, and we can't have that kind of baseball."
Right-hander Casey Whitmer, who hasn't allowed a run in his last two starts, will start Sunday. He has 38 strikeouts in 25 2/3 innings.
"Whitmer [will be] on the mound, so we got a good shot at the best team in the league tomorrow," Moulder said. "
The Bombers avoided a shutout on Will Basom's sixth-inning grounder, which scored TJ Mittelstaedt, who had walked. Blake Walker, who had doubled, also scored on the play when the ball went under the shortstop's glove.