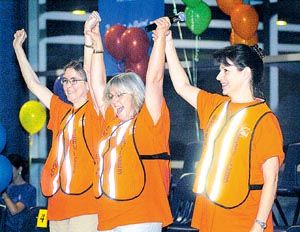 Blinn Brigade wins Bee for Education
Eagle photo/Butch Ireland
Blinn Brigade spellers Linda Bow, from left, Lynne Pocaterra and Sheri Roussel raise their arms in victory after winning the Bee for Education spelling bee at Bryan High School Tuesday night. The corporate fundraiser was sponsored by the Bryan Independent School District Education Foundation.
Local educators can hold their heads high. Their peers showed Tuesday night that they were the area's best spellers.
The Blinn Brigade, a team of three Blinn College English teachers, edged out a group representing Texas A&M University to win the Bee for Education fund-raiser at Bryan High School.
The annual spelling bee is sponsored by the Bryan ISD Education Foundation and is its biggest event of the year. The group's year-round fund-raising efforts help the district's teachers and students with special projects and scholarships.
Blinn's team — Linda Bow, Lynne Pocaterra and Sheri Roussel — won by properly spelling the words "ghurry" and "skirret." The A&M team had misspelled "ghurry" on its previous try.
" This is what happens when you read a lot," Pocaterra said.
Kay Hamilton, president of the education foundation board, said the bee always is a fun event and helps raise thousands of dollars that benefit local education.
" The foundation provides a way to enhance the educational opportunities that are available," Hamilton said. "We help provide things teachers always want to do but is beyond what the funding can do."
The foundation awarded $19,000 to district teachers and $12,500 in scholarships to graduating seniors during the past school year.
Since its inception in 1999, the education foundation has given $99,000 in grant money to 100 Bryan school district teachers for unique learning programs. Each teacher must submit an application, and recipients are approved by a foundation committee. The group also has given 82 scholarships worth $76,500 to graduates.