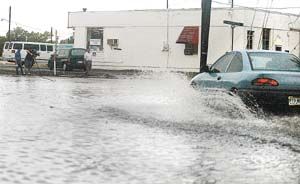 Storms drench Brazos Valley
Eagle photo/Patric Schneider
A brief but heavy downpour Friday afternoon flooded at least two Downtown Bryan buildings, sending workers scrambling to save merchandise and computers before evacuating.
Water from the 23-minute storm — which dumped 1.3 inches of rain, according to the National Weather Service — poured into Chaplain Outreach Services and the Acme Glass Co. warehouse. Both Main Street properties have flooded in the past during heavy rains.
Patricia Romero, processor for the nonprofit Chaplain Outreach Services, said this is the fifth time in five years the center has flooded during heavy rains.
"This is definitely the worst," Romero said. "I don't think we're going to be able to save our carpets and tile."
The organization, which files paperwork, offers financial assistance and provides other services to immigrants, recently spent $1,375 to repair previous flood damage and is not insured.
Norman Maurer, operations and transportation manager for the city of Bryan, said the flooding probably was caused by debris blocking drains on the street.
"We just got overwhelmed," Maurer said. "It was a great amount of rain in such a short time."
As runoff gushed in the front door of Chaplain Outreach Services, cars passing through a pool of water on 33rd Street also splashed water through the back door. Center staff placed traffic cones around the pool to keep cars away from the pool.
Inside the building, workers hurried to move boxes of files from the floor and used brooms to sweep the ankle-deep water out the door. Romero said she was careful to switch off the electricity before moving computer equipment and cables from the floor.
"We had clients in here at the time, so they helped us sweep the water out," Romero said.
The building flooded 18 months ago, which caused significant damage to the carpet and floors, Romero said. The carpet and linoleum tile were replaced within the past three months.
Romero said the center and neighboring businesses contacted the city of Bryan about the flooding once before. City officials responded by cleaning the street drains, she said.
The Acme Glass Co. warehouse also flooded as the pool of water on 33rd Street seeped onto the property.
Acme owner Mitch Morehead said flooding has occurred at least four times in the past five years but that this time was possibly the worst.
"We've got three drains on the corner which seem to be undersized, and they get stopped up because of the lack of space," Morehead said.
Morehead couldn't estimate the cost of the damage but said the sitting water obviously had damaged the carpet and could stain the glass stored in his warehouse.
Joey Dunn, Bryan's manager of planning and development services, said drainage on South College Avenue and Main Street will be improved in the next year as street construction moves toward downtown Bryan.
"Fixing the drainage problem on Main could address the issue on this particular corner," Dunn said.