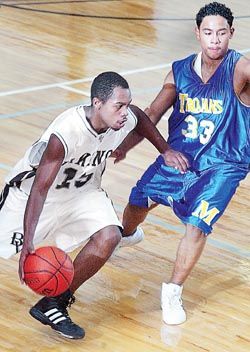 The final score might not have reflected it Tuesday night, but the Bryan Vikings had to battle to dispatch of the Corpus Christi Moody Mighty Trojans at the All-Star Invitational.
The Vikings found themselves locked in a physical, grind-it-out type of contest, and when all was said and done Bryan came away with a 69-53 victory, in a game that was closer than the score showed.
"It got ugly, and we like it ugly, sometimes," Bryan head coach John Reese said.
The victory over Moody, combined with an earlier 91-46 victory over the Fruit of Excellence Black Hawks, left the Vikings at 2-0 after the first day of the tournament.
Bryan will conclude pool play with a noon game Wednesday against Northland Christian at Viking Gym. Bracket play will begin Wednesday afternoon.
"Anytime you can come to this tournament and start that way I think it is a plus," Reese said. "We've got to do some things a little bit better tomorrow, but at this point, 2-0, I'll take it."
The ugliness Reese was referring to was as much self-inflicted as it was caused by Moody.
Bryan looked out of synch, especially on the defensive end, as the layoff for Christmas seemed to take its toll on the Vikings (11-6).
"Once the kids get away from the daily repetition and routine of practicing you seem to go brain dead in some areas," Reese said. "We seemed to go brain dead on some areas and it caused some cheap fouls.
"You start to pick up those cheap fouls when you are not playing sound defensively."
Moody (11-5) stayed within striking distance of the Vikings, and even held the lead midway through the first quarter, but didn't quite have enough to keep up with Bryan.
Trailing 11-10, the Vikings closed the first quarter on a 11-4 run that saw Leslie Jackson score six of his game-high 17 points. Artrell Woods also had six points in the run, including the last bucket of the period.
Bryan was able to take the lead out to 12 points at the half, using another end-of-quarter run, this one ending up 13-4.
Jackson kicked it off with a 3-pointer and he ended it with an offensive rebound and putback. In between, Wade Coburn, Tim Green and Woods each had a basket and Brandon Webster added a pair of free throws.
The Vikes took the lead out to as many as 16 in the third quarter, but carelessness with the ball allowed Moody to chip the lead down to 10 heading into the final eight minutes.
Bryan turned the ball over five times in the period, the last leading to a slam dunk by Duncan Neal just before the horn sounded to end the quarter.
"The mistakes that we are making, we've got to eliminate," Reese said. "It is one thing if a team is getting up and pressing you and causing some of those mistakes, but when they are self-inflicted, that hurts.
"We've got to do a better job of taking care of the ball. When we are unable to run we've got to do a better job of executing in the half-court and then when we are able to run we've got to do a batter job of converting on the other end."
The Vikings turned up the defensive pressure in the final period, and it enabled them to keep the Trojans at bay.
Moody, which committed 26 turnovers on the night, had nine in the final quarter.
George Smith, who finished with 10 points for Bryan, sparked a 9-0 run that helped the Vikings put the game away.
Smith converted a three-point play after making a steal on the other end and then added another free throw when the Moody coach was slapped with a technical.
Tyrone McMurry added three more free throws, making it 63-45, with 4:47 remaining.
"That's the positive thing about," Reese said, "that with all that you still manage to find a way to win."
Bryan 69, Corpus Christi Moody 53
Numbers after players names are field goals made and attempted, free throws made and attempted, rebounds, fouls and total points.
MOODY (11-5) — Derrick Rogers 2-5 1-1 2 1 5, Gabriel Alvarez 0-1 0-0 1 3 0, Jerome Rives 1-3 0-0 1 0 2, Jimmy Valdez 1-5 1-2 0 3 4, Duncan Neal 3-4 1-3 6 1 7, Alton Coleman 4-7 5-8 7 4 13, Niehiamiah Coleman 3-4 2-3 3 2 9, Joshua Garza 4-7 1-2 0 4 9, Ricardo Longoria 0-0 0-0 1 0 0, Jalil Rives 0-1 0-0 2 0 0, Warren Griffin 1-4 2-2 3 2 4, Artie Martinez 0-0 0-0 1 0 0. TOTALS: 19-41 13-21 27 20 53.
BRYAN (11-6) — Tim Green 2-3 1-1 0 5 5, Wade Coburn 2-5 0-0 0 1 5, Tyrone McMurry 1-6 3-4 4 2 5, Ricky Taylor 5-6 2-4 4 4 12, Leslie Jackson 7-19 2-3 8 1 17, Artrell Woods 2-5 4-6 6 2 8, George Beckworth 0-1 0-0 3 0 0, Michael Steadman 0-1 0-0 1 1 0, George Smith 4-12 2-4 1 0 10, Brandon Webster 2-2 3-8 4 2 7. TOTALS: 25-60 17-30 31 18 69.
3-point shooting: Moody 2-7 (Rogers 0-1, Jer. Rives 0-2, Valdez 1-3, N. Coleman 1-1). Bryan 2-6 (Coburn 1-3, McMurry 0-1, Jackson 1-1, Beckworth 0-1).
Turnovers: Moody 26. Bryan 15.
Steals: Moody 7 (Valdez 2, Neal 3, A. Coleman 2). Bryan 13 (Green 2, McMurry 1, Taylor 1, Jackson 1, Woods 1, Beckworth 2, Smith 3, Webster 2).
Bryan 91, Fruit of Excellence 46
BRYAN (10-6) — Tim Green 2, Wade Coburn 11, Tyrone McMurry 4, Ricky Taylor 17, Leslie Jackson 13, Artrell Woods 6, George Beckworth 17, Michael Steadman 4, John Smith 8, Brandon Webster 9.
FRUIT OF EXCELLENCE — Anthony Clemons 18, Cory Burwell 3, Jonathan Martin 18, Antoine Jackson 2, Cavitt 3, Marvyn Thibodeaux 2.
• Tim Schnettler's e-mail address is