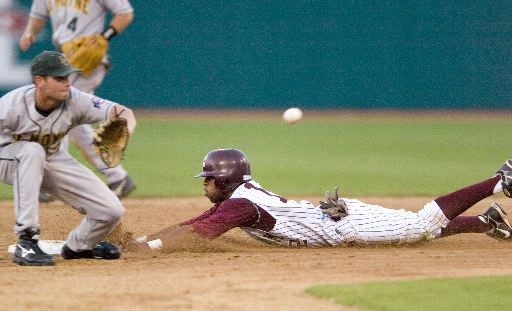 The Texas A&M Aggies continued their clutch hitting from the Big 12 Tournament, scoring their first five runs on two-out singles to down Le Moyne 7-2 on the opening day of the College Station Regional in front of 5,267 at Olsen Field on Friday.
The Regional's top-seeded Aggies (45-16) will play Louisiana-Lafayette at 7 p.m. Saturday. A&M's Kyle Nicholson (11-1) will start for the Aggies against Louisiana-Lafayette's Hunter Moody (8-3) on Saturday.
NCAA BASEBALL
COLLEGE STATION REGIONAL AT OLSEN FIELD
FRIDAY'S GAMES: Texas A&M 7, Le Moyne 2; Louisiana-Lafayette 5, Ohio State 4
SATURDAY'S GAMES: Ohio State vs. Le Moyne, 1 p.m.; Texas A&M vs. Louisiana-Lafayette, 7 p.m.
Le Moyne (34-18) will play the Buckeyes at 1 p.m. in an elimination game.
Up 2-0 with two outs in the fourth, A&M's Kyle Colligan singled and Brian Ruggiano walked. Colligan scored on a single to left by Parker Dalton, who stole second. Dane Carter then singled to drive in Ruggiano and Dalton.
"If not for the two-out hits early, it would have been a different ballgame," A&M coach Rob Childress said. "That's kind of what we've hung our hat on all year long, getting those two-out hits."
The Aggies also stole eight bases to set the Big 12 single-season mark with 147.
But Le Moyne coach Steven Owens said A&M's two-out hits hurt the Dolphins more.
"We kind of got behind the 8-ball early by allowing a couple of two-out base hits," Le Moyne coach Steve Owens said. "Everyone that got into scoring position [A&M] got in early in the game, and that's a key in these games. You've got to play from ahead."
Two of A&M's steals came in the eighth when the Aggies tacked on two insurance runs. The Aggies opened the inning with a Craig Stinson triple, his second of the season. Le Moyne intentionally walked Luke Anders, and while the Dolphins when to their closer Ryan Woods, the Aggies put Brodie Greene in to run for Anders.
Greene stole second, and the throw sailed into center field, allowing Stinson to score. Robby Perez bobbled the ball in center, and Greene darted to third. Colligan then squeezed home Greene for the final run.
"That's been our game all year, just stealing bases and putting the full-court pressure on the other team," Stinson said. "We put a lot of pressure on them tonight, especially in the eighth inning when we put them away."
The Aggies greeted Le Moyne ace Bobby Blevins (9-3) with two runs in the first.
Ben Feltner chopped a single over the head of first baseman Ben Gaal. With two outs, Blake Stouffer singled sharply to right, then stole second to set up Stinson's two-run single to right.
The inning could have been worse for the Dolphins if not for two stellar defensive plays. Third baseman Stephen Crawford robbed leadoff hitter Carter of a hit, and Gaal ran down a foul ball close to the visitor's bullpen.
For Stinson, the single extended his hitting streak to nine games, and it was his fifth straight game with an RBI. He's also had multiple-hit games in 10 of his last 12.
David Newmann (11-1) picked up the win, matching his career high in strikeouts with nine over seven innings of work.
"I felt pretty good tonight," Newmann said. "My fastball and curveball were working pretty well."
The Dolphins (34-18) got their first run in the fifth.
A Sean Paino single up the middle, a single to right-center by all-American shortstop Andy Parrino and a walk to Mike Brown loaded the bases with two outs. Newmann then cost himself a run with an error trying to pick off Parrino at second. The miscue allowed Paino to hustle home, but Newmann stopped the rally there by striking out cleanup hitter Phil St. Amant to end the inning.
Travis Starling relieved Newmann in the eighth. With one out, Gaal reached on an error by Ruggiano and scored on a triple by Matt Nandin.
Blevins, who had did not get to pitch the last time the Dolphins were in an NCAA regional because of a suspension, proved why his coach calls him a "bulldog". The senior, who has not missed a conference weekend start during his entire career, threw 114 pitches before being relieved by Ryan Woods after intentionally walking Anders in the eighth. like to have had a change-up in there, but it wasn't in my repertoire today."
A&M's Kyle Nicholson (11-1) will start for the Aggies against Louisiana-Lafayette's Hunter Moody (8-3) on Saturday.
Friday's victory was A&M's first in the NCAA Tournament since beating Lamar 14-3 in the 2004 regionals.