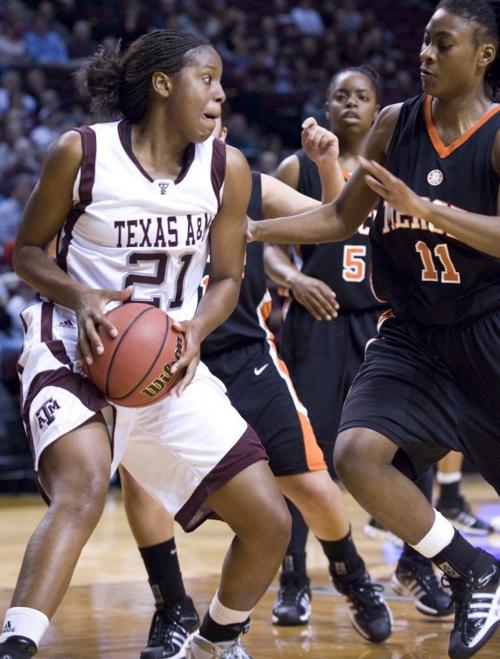 Adaora Elonu came to Texas A&M as the little sister of Chinemelu Elonu, but she's done big things for the women's basketball team since arriving.
The 6-foot-1 freshman forward started the season opener against Mercer, scoring eight points with eight rebounds, three assists, three steals and a blocked shot. She hasn't looked back, averaging 8 points and 5.8 rebounds per games as the Aggies are off to an 8-0 start for the first time in school history. A&M puts that unblemished mark on the line inside Reed Arena at 7:30 p.m. Saturday against Texas State.
Blair said last November that Elonu was the centerpiece of an incoming freshman class that included four Top 100 prospects. It didn't take Elonu long in practice to make Blair's prophecy come true.
"It's going to take someone pretty special to beat her out," Blair said before the season opener. "From Day 1, she's been our most consistent high-post player."
She earned her teammates' respect before Blair gave her the starting nod.
Senior All-America candidate Danielle Gant smiles remembering how she had to work hard in preseason as a freshman to earn respect from Erica Roy and Tamea Scales, who were the senior leaders for the 2005-06 team.
"I see that in Adaora a lot," Gant said. "She's the one picking me up, getting down the floor [first]. She was the one on the other team scoring all the points."
Those pickup games helped Elonu gain confidence.
"I really never thought about starting, I just wanted to play," Elonu said. "I just kept working over the summer."
The effort is paying off. Elonu has been named the Big 12's Freshman of the Week twice. Her best game was 17 points on 8-of-11 shooting in a 77-36 victory at Stephen F. Austin. She added four steals and six rebounds. Elonu followed that with 12 points against Southern Methodist on 6-of-9 shooting Sunday.
She's third on the team in scoring behind Gant and senior guard Takia Starks.
"Adaora is a kid who is going to score in bunches, then all of a sudden she is gonna disappear for awhile," Blair said. "She's going to be making defensive mistakes and have to come out of ballgames. But at the same time, she's got the ability to score."
Elonu is shooting 49.2 percent from the floor, which is second among the starters, just behind Gant's 50 percent.
Elonu's shooting caused Blair to frown during Wednesday's practice.
"I remember the high shot she missed and I got on her because she hadn't been shooting that high-post shot very well," Blair said. "Then she missed three wide-open layups off set plays."
When Blair was handed the statistical sheet after practice, it showed Elonu 8-of-12 shooting.
"I said, 'Oh, my gosh,'" Blair said. "I'd take that every time."
Elonu's consistency has allowed Blair to move fellow freshman forward Kelsey Assarian to post to compete with La Toya Micheaux and Damitria Buchanan.
Blair's not worried about Elonu getting the big head, because he likes her attitude the best. The only time Elonu didn't start, she came off the bench for 10 points and six rebounds in a 59-56 victory at Michigan.
"It's just being young, she's handling it well," Blair said. "She defers to the seniors a lot. She realizes this is T-Kay's [Starks] team and Gant's team and Micheaux's team. She's just waiting for her time, but while she's waiting she's playing pretty darn well."
Elonu is still adjusting to the speed of the college game. She was only 1-of-6 shooting against Pitt and then 1 of 4 against Penn State with six turnovers.
"I have to focus a lot more," Elonu said. "I have to think about what's ahead, not just what's happening now at that moment."
The freshman has learned to speak her mind with her teammates. Gant's favorite player is the Lakers' Kobe Bryant. Takia Starks' favorite is Detroit's Allen Iverson. Elonu? It's her big brother, even though pickup games between the two weren't frequent as they were growing up.
"He always tried to hurt me," said Adora with a laugh.
Now, she's hurting her big brother's ego. The 6-10 Chinemelu Elonu is second in the family, averaging only 7.3 points and 4.9 rebounds per game.
NOTES -- Texas State (4-4) was 21-11 last season, advancing to the WNIT. Texas State was picked second in the Southland Conference preseason poll of coaches behind Texas-San Antonio this year. ... A&M ranks No. 1 in the country in 3-point field-goal defense (.167), No. 6 in scoring defense (49.5 points per game) and No. 6 in overall field-goal defense (31.3). ... Elonu played her high school ball at Alief Elsik, which opened in 1975. Two of its notable alums are former A&M football players Warrick Holdman (1995-98) and Donovan Greer (1993-96), who both went on to play in the NFL. Holdman was an all-conference linebacker at A&M, while Greer was an all-conference cornerback.
TEXAS A&M WOMEN'S BASKETBALL
TEXAS STATE AT NO. 4 TEXAS A&M
WHEN/WHERE: 7:30 p.m. Saturday at Reed Arena
RECORDS: A&M (8-0), Texas State (4-4)
TEXAS A&M-TEXAS STATE STARTERS
Takia StarksG5-8Sr.12.84.0
Sydney ColsonG5-8So. 5.1*2.9
Adaora ElonuF6-1Fr.8.05.8
Danielle GantF5-11Sr.12.87.3
La Toya MicheauxC6-3Sr. 3.4 5.3
Victoria DavisG5-6Jr.9.0*4.0
Ashley ColeG5-5Sr.11.44.4
Gabriell MattoxF5-11So.6.04.3
Aimee HilburnF6-1 Jr.7.8 5.4
Texas A&M's Adaora and Chinemelu Elonu aren't the first basketball playing siblings in college basketball. The most famous were Cheryl and Reggie Miller. Cheryl was the three-time national player of the year from 1983-86 at Southern Cal and is considered by many the greatest women's player ever. Reggie was a year behind his sister and attended UCLA, where he was an All-American and graduated trailing only Kareem Abdul-Jabbar in the school's career point list.
Other notable brother-sister basketball combinations are:
Rudy and Marta Fernandez. Rudy, who played in the Spanish professional league, is a rookie with the Portland Blazers, while Marta plays in the WNBA. Neither played college basketball.
Rashad and Rashanda McCants. Rashad played at the University of North Carolina for three years and is now with the Minnesota Timberwolves. Rashanda, who earned second-team all-conference honors last season, is a senior at UNC.
Tamara (2004-07) and Alisha Tatham (2005-08), Massachusetts, and Patrick Tatham, Cleveland State (2005-07). Tamara was a four-year starter, while Alisha and Patrick were two-year starters.
Ime and Mfon Udoka. They were the first brother-sister combo to pla