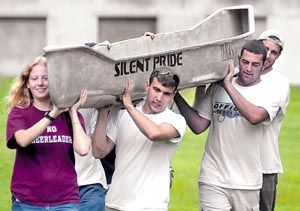 A&M in national concrete canoe contest
Eagle photo/Dave McDermand
Members of the A&M concrete canoe team carry their creation, "Silent Pride," earlier this week. The team is competing with 20 other universities in the National Concrete Canoe Competition in Washington, D.C.
• The A&M canoe — "Silent Pride" — is 22 feet long and 28 inches wide. It weighs 160 pounds and is 3/8-inch thick.
• Two hundred teams from 18 regions participate.
• Twenty-one teams reach the national competition.
• Judging is based on: aesthetics, 25 percent; five-minute presentation and questions from the judges, 25 percent; design paper, 25 percent; races, 25 percent.
• A&M's previous best finish in this competition was 15th two years ago.
Concrete floats. At least, if it's properly engineered.
To prove the point, a group of 18 Texas A&M University civil engineering majors headed Wednesday to float their canoe, "Silent Pride," at the National Concrete Canoe Competition in Washington, D.C.
The contest between 21 universities takes place Friday through Sunday. This year's entry is only the second from A&M to make it to the national level in this competition. A&M is the only team from Texas in the finals.
" This year's design was a radical change from last year's design," team captain Rhett Dotson said. "Last year's design was very slow and bulky. I did research on canoe design to see what makes them go fast."
Speed, which is gauged by five races in the contest, is not the only factor in the judging. Teams also are graded on the aesthetic appeal of the canoe, a written description of the design and an oral presentation followed by questions from a panel of judges.
The national contest began 17 years ago and is sponsored by the American Society of Civil Engineers and Master Builders Inc., which award $9,000 in scholarships every year to the team with the best overall scores.
" When most people hear the words 'concrete' and 'canoe' they don't think they belong in the same sentence together," said Larry Roth, the society's deputy executive director. "And so it gets people thinking outside the box."
The A&M team began researching and designing last July for the regional competition in April. They built the canoe from the ground up, starting with a design, then building a mold and working on concrete mixtures, and finally doing tedious finish work. The entire process took over 3,000 work hours, Dotson said.
Designers have to be pretty creative and thoughtful to build something that floats, is maneuverable and can be used in a canoe race, Roth said.
Team members must paddle the boat in three races focusing on speed and two others that test endurance.
" Usually the paddlers are the most involved in the projects — the ones that just get knee-deep in it," Dotson said. "We teach them how to paddle ourselves."
The team is aiming to finish in the top five, said Karen McCouskey, A&M's co-captain and one of the paddlers.
" We should come real close to it, if not in it," she said. "We want to make a name for ourselves."
That goal is part of the reason Dotson returned to the team for a second year.
" At first I thought the very concept of a concrete canoe was crazy, and then when I looked at it and saw what they were doing, I wanted to be a part of it," he said. "Once I was a part of it and we lost at region, I wanted to win."
Roth said the competition allows students to take what they've learned in the classroom and apply that knowledge to building a project in the field.
It also requires a lot of decision-making and problem-solving — something the A&M team experienced early on.
" We didn't make the first one quite strong enough, so it broke the first time we ever took it out," McCouskey said. "It was still early in the year, and we knew we had plenty of time to rebuild. We had to learn from it and do something different."
The challenge was eased by the camaraderie shared among the team, Dotson said.
" There's an incredible bond on that team — it's a great set of friends," he said. "Anyone on the team would do anything for anyone else."
Dotson also tried to prepare the team for future years by developing a shadowing program for younger students, McCouskey said.
" [He] has worked hard to not make it one great team, but a program out of it," she said. "We've really tried to teach the younger ones what to do next year when the seniors aren't here."