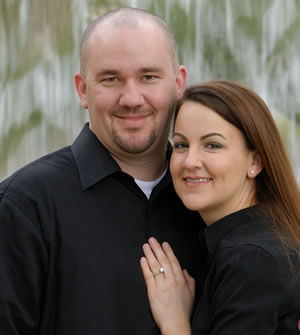 Eugene and Wanda Wood of Bryan are pleased to announce the engagement and upcoming marriage of their daughter, Amanda Ann Wood, to Shawn Kevin Powers, son of Dennis (Mack) and Wilma Powers of Murphy, Texas.
Grandparents of the bride-elect are the late Robert P. Wood and the late Jane M. Wood of Bryan, and the late Elias L. Urbanosky and the late Frances A. Urbanosky of Snook.
Grandparents of the prospective groom are the late Roy M. Powers and Mary Sue Powers of Poplar Bluff, Missouri, and the late Paul H. Hooker and the late Ruby Jewel Hooker of Poplar Bluff, Missouri.
Amanda is a 1999 graduate of Bryan High School and a 2004 graduate of Texas A&M University with a Bachelor of Science degree in Accounting and a Master of Science in Accounting. She is currently employed as a Certified Public Accountant for Daniels and Erickson, PC in Dallas.
Shawn is a 1991 graduate of North Garland High School and served in the United States Marine Corp active reserves from 1996 – 2004. He is currently employed as an Account Manager for Sagiss LLC in Dallas.
The wedding will take place on Saturday, May 19, 2007 at First Methodist Church in Bryan.
Be the first to know
Get local news delivered to your inbox!