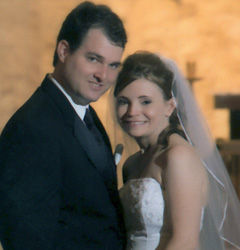 Mr. and Mrs. Matthew Paul Scanlan will celebrate their first anniversary on July 29.
The former Karen Netherland is the daughter of Ron and Carolyn Netherland of Waco. Matthew is the son of Mack and Glenda Scanlan of College Station.
The couple exchanged vows at St. Thomas Aquinas Catholic Church.
The reception was held at the Archery Room at the TAMU Rec. Center.
Karen graduated in 1994 from Reicher Catholic High School in Waco. Matthew is a 1995 graduate of A&M Consolidated. Both are graduates of Texas A&M University.
The couple make their home in Allen. They are both teachers at North Garland High School.