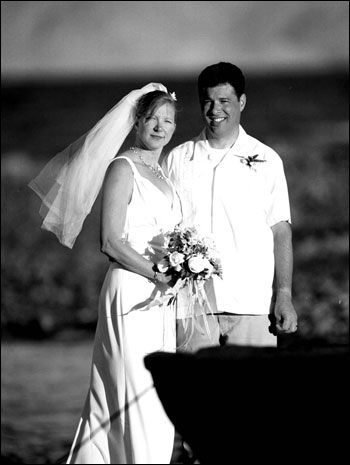 Kella Cecile Kunz and Steven Taylor Clark were united in marriage in an outdoor ceremony on Saturday, the 11th of March, 2006, at Loreto, Baja California Sur, Mexico. Ben McKenna, friend of the bride and groom officiated at the double ring ceremony. The bride is the daughter of Paul and Helen Kunz of Bryan, Texas. The groom is the son of Les and Linda Clark of Sonoma, California.
The matron of honor was Kristine Hill, sister of the bride. Serving as bridesmaids were Tracy Tinsley, childhood friend of the bride, and Jill Jackson, sister of the groom.
Best man was Eric Thorsen. Other groomsmen were Lee Miguel and Robert Taylor.
After the ceremony a dinner and dance was held at Las Cabanas de Loreto.
On April 8, 2006, family and friends celebrated with a Texas reception. Msgr. John McCaffrey blessed the couple, and then the couple had a reception in their honor at St. Joseph Catholic Church Parish Activity Center. Slides and movies provided a glimpse of the wedding ceremony in Mexico.
Following the reception, the couple made a honeymoon trip to Cozumel, Mexico. They are now residing in Sacramento, California.