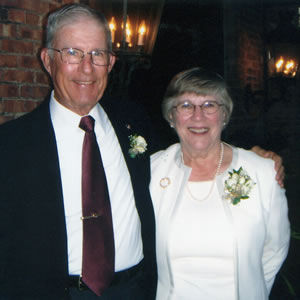 Jim and Carol Keblinger of College Station celebrated their 50th wedding anniversary with their family on June 9, 2007 at Brennan's in Houston. They had exchanged vows on June 8, 1957 at Grace Lutheran Church in Houston.
They are blessed with a daughter and son-in-law, Linda and Mike Nicolosi of The Woodlands, Texas, and a son and daughter-in-law, Jim and Lynlie Keblinger of Round Rock, Texas, as well as four grandchildren, Daniel and Catherine Nicolosi and Bryan and Dylan Keblinger.
Jim retired from Shell Oil Company and Carol is a retired schoolteacher.