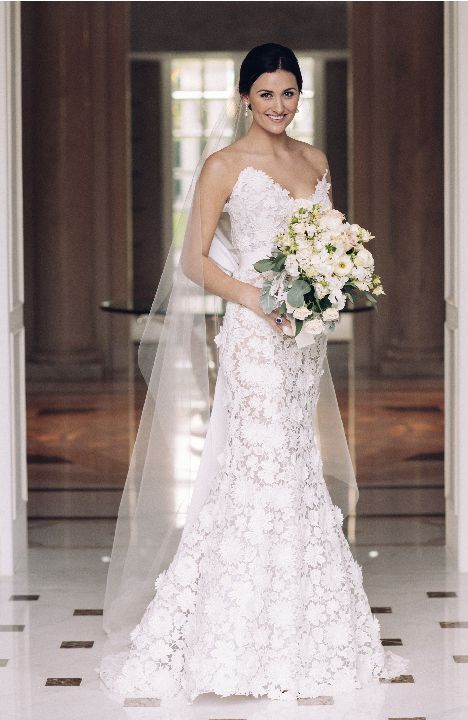 Miss Mackenzie Adam Malechek and Mr. Brantley Parker Gwin were united in marriage on Saturday, June 2, 2018 at half after four in the afternoon at St. John's Episcopal Church in Jackson Hole, Wyoming. The double ring ceremony was officiated by Reverend Jimmy Bartz of St. John's Episcopal Church. Music for the ceremony was provided by the Richard Brown Orchestra String Trio, pianist, Pam Phillips, and soloist, Molly Proctor. The scripture readings were given by Michael Lester Armour and Laura Caroline Neatherlin. Following the ceremony, the parents of the bride hosted a formal, tented reception at 3 Creek Ranch with entertainment provided by the Judd Grossman Trio and Simply Irresistible band of Atlanta, Georgia. On the Thursday before the wedding the parents of the groom hosted a rehearsal dinner at Orsetto and on the eve of the wedding the parents of the bride hosted a welcome party at Spring Creek Ranch. The bride is the daughter of Mr. and Mrs. Louis Arthur Malechek III of Bryan, Texas. She is the granddaughter of Mr. and Mrs. Louis Arthur Malechek, Junior of Barksdale, Texas and Mr. and Mrs. Donald Adrian Adam of Bryan, Texas. The groom is the son of Mr. and Mrs. Steven Paxton Gwin of Buxton, North Carolina. He is the grandson of the late Mr. and Mrs. Milford Collins Gwin of Waynesboro, Virginia and the late Mr. and Mrs. Fodie Harding Hodges of Kinston, North Carolina. Given in marriage by her parents and escorted by her father, the bride wore a couture gown of Oscar de la Renta New York. The strapless gown of silk white floral guipure lace and silk organza featured a deep-V sweetheart neckline with a fitted corset bodice, which was accented with a hand draped ivory silk faille sash around the waistline. The fitted trumpet skirt, with a beautiful half bow, fell into a soft circular chapel train. To complement the gown, the bride wore a long illusion cathedral veil with floral guipure lace. The bride carried a loose handtied bouquet of white peonies, garden roses, sweet peas, lilac and silver leaf eucalyptus which was adorned with a handkerchief from her maternal great grandmother. The bridal party wore Monique Lhuillier sateen slip gowns in steel grey which featured a side seam slit and double spaghetti straps crossing on the back. Serving their sister as matron and maid of honor were Madison Malechek Januse and Teresa Ann Malechek. Bridesmaids were Andrea Sharp Farish, Samantha Wood Farish, Laura Hunt Farish, Kelly Elizabeth Koenig and sister of the groom, Paxton Gwin Daniels. Lillian Elizabeth Januse, niece of the bride, and Avery Grace Adam, cousin of the bride, served as the Flower Girls. Chase Powers Hooper served as Best Man. Groomsmen included Gregory Thomas Nachman, Steven Zachariah Genovese, Andrew Reuben Trant, Robert Joe Daniels, Jordan Michael Januse, brother in law of the bride, James Colton Resor, and Louis Arthur Malechek IV, brother of the bride. Ring bearer was James Adam Januse, nephew of the bride. Ushers for the wedding included Colten Ace Adam, cousin of the bride, and Joseph Hamilton Cheek. Mackenzie is a 2011 graduate of Allen Academy in Bryan, Texas. She graduated from Texas A&M University in 2016 with a Bachelor of Arts degree in Communications with a minor in Business Administration. Mackenzie is currently the Design Coordinator at Adam Development Properties. Brantley is a 2006 graduate of Cape Hatteras High School in Buxton, North Carolina. He graduated from East Carolina University in Greenville in 2010 with a Bachelor of Science in Construction Management, Cum Laude, and a Master of Business Administration in 2014. Brantley is currently President of Silverfin Land Development. Mr. and Mrs. Gwin will reside in Corpus Christi, Texas. They are planning a honeymoon for later in the year to South Africa.
Be the first to know
Get local news delivered to your inbox!