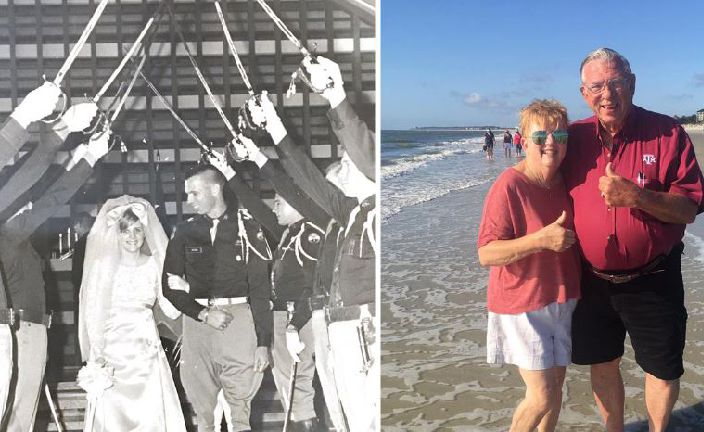 January 25, 2019 marked the 50th wedding anniversary of Bob and Suzanne Segner. Bob, a member of the Corps of Cadets at Texas A&M University and Suzanne Layne, a co-ed at Baylor University met on a blind date for the A&M vs TCU football game in the fall of 1966 and as they say, the rest is history. Bob, while Yell Leader in charge of bonfire stack, proposed to Suzanne at Aggie Bonfire in 1968, and in January of 1969 the two exchanged vows in the All Faiths Chapel on the Texas A&M campus. Bob's Corps buddies formed a saber arch as the newly married couple exited the chapel. Bob and his bride Suzanne have two children, daughter Chris and Tony McCollum of Cypress, and son Jason & Kari Segner of Jinji, Uganda, as well as 7 "grandbabies": Kaitlyn and Megan McCollum and Karson, Everett, Hadlee, Pierce and Joseph Segner. They have made College Station their home where Bob spent 46 years as Professor of Construction Science where he received numerous awards and recognitions. He is now Professor Emeritus of Construction Science. Suzanne also spent the majority of her career in research laboratories in Plant Pathology & Microbiology at Texas A&M. Bob and Suzanne are both graduates of Texas A&M as the Fightin' Texas Aggie Classes of '69 and '86. Together, they have enjoyed a wonderful life; they have lived and loved generously and have been an incredible example of love, faith and devotion.
Be the first to know
Get local news delivered to your inbox!