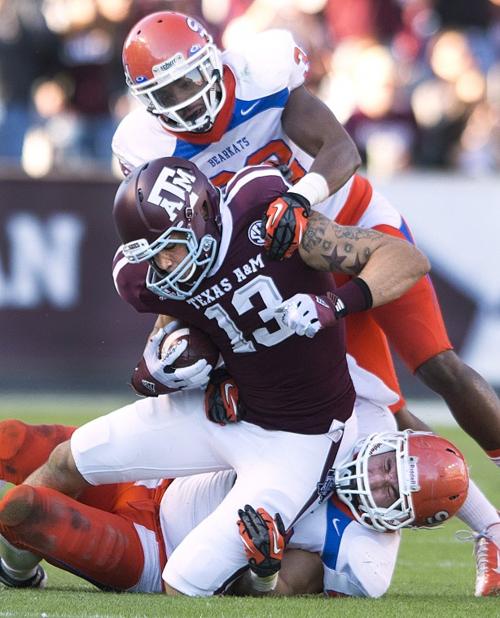 What went right: Texas A&M exploited Sam Houston State's aggressive defense, throwing long for a pair of touchdowns with Uzoma Nwachukwu grabbing an 89-yarder and LeKendrick Williams adding an 80-yarder.
What went wrong: Running back Trey Williams had only four touches, fumbling once. Johnny Manziel was intercepted when he forced a pass to Mike Evans.
Bottom line: The first unit ran three plays and punted only once as Manziel ended with 367 yards and five touchdowns in only 47 snaps.
What went right: A&M had to go only 13 yards for its third touchdown after Donnie Baggs' interception and later had to negotiate only 20 yards to make it 34-0 after Sean Porter's fumble recovery.
What went wrong: SHSU converted three of its first four third downs, three more than Alabama had in the first quarter, though A&M didn't appear to be as amped. SHSU had 315 yards in the second half, mostly against A&M's second- and third-stringers.
Bottom line: The defense hit back hard after running back Christine Michael was thrown out of the game for taking a swing, limiting SHSU to 1 yard on the Bearkats' next 13 plays and forcing a pair of turnovers as A&M rolled to a 34-0 halftime lead.
What went right: The missed extra point by Manziel was one of the game's most talked-about plays.
What went wrong: A bad snap led to A&M's first missed extra point, and later SHSU was able to recover two onside kicks.
Bottom line: You know A&M's kicking game is in trouble when even Johnny Football can't hit an extra point.
What went right: Emotionally, A&M held up well this week coming off the upset of Alabama along with the saga of freshman wide receiver Thomas Johnson, who was found after being missing for more than 48 hours.
What went wrong: The kicking game remains inconsistent, and A&M needs more defensive depth, which actually accents how far the first unit has come. Michael getting thrown out can't happen, even if he was goaded.
Bottom line: First-year head coach Kevin Sumlin showed style by allowing Johnny Football to kick the extra point in a 40-0 game, just as he did with his decision to keep the starters on the bench as SHSU scored 28 answered points. He needs to work on making sure his players keep their emotions in check so that Michael's ejection isn't repeated.
What went right: Everyone wearing maroon enjoyed the first victory at Kyle Field in seven weeks. Manziel had a few more Heisman Trophy-type moments, capped by the 89-yard touchdown pass to Nwachukwu.
What went wrong: Many Aggies missed the festivities, not wanting to shell out $39.95 for pay-per-view.
Bottom line: The final score wasn't indicative of how the Aggies dominated play, but after losing five of the last nine games at Kyle Field, including two this year when they led both in the fourth quarter, a 19-point victory for win No. 9 looks pretty good. It looked even better after Baylor upended Kansas State, maybe helping give Johnny Football the Heisman Trophy.