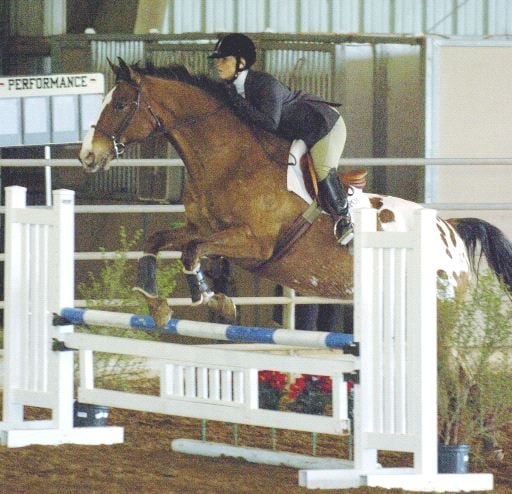 The kid idolized a Texas A&M athlete, deciding at age 8 to one day become an Aggie and win championships for the maroon and white.
It's a familiar story, but this kid didn't grow up wanting to play quarterback like Bucky Richardson or hit home runs like John Byington.
This kid wanted to be like Quincy Cahill.
Cahill was A&M's first national champion in equestrian. Cahill and Katie Forest, who was the Aggies' next star rider, were the reasons Tonna Brooks decided to become an Aggie when she was 8 years old in Newberg, Ore.
"Quincy Cahill and Katie Forest were my idols growing up," Brooks said. "I wanted to be just like Quincy ever since I was 8. This was where I wanted to be."
This week, Brooks and the A&M riders will be in Waco to compete in the Varsity Equestrian National Championships, hoping to capture the program's fourth national team title and, perhaps, inspire future Aggie champions.
By the time current 8-year-olds become college freshmen, they might be able to compete for an NCAA championship. Currently, the National Collegiate Athletic Association has designated equestrian as an emerging sport for the 23 schools that sponsor it as a varsity sport.
NCAA rules require at least 40 schools to sponsor a sport in order to sanction it as a varsity event.
"We've been on a pace of adding 1-2 schools every year for the past three or four years," said A&M assistant athletic director Kevin Hurley, the chairman of the VENC selection committee. "There are probably three or four schools that are contemplating adding equestrian at this point. I think we can legitimately get there. It has taken us a little bit longer than we had hoped. By the same token, we have made good progress."
The A&M program reflects that progress. Tana Rawson was a volunteer who worked with the student-run equestrian club team in 1998. The athletic department began to sponsor the sport in 1999, and Rawson was hired as coach.
Now Rawson has two full-time assistant coaches and a director of operations. A&M's equestrian team offers 15 scholarships per year, which are divided among most of the riders on a roster of more than 60 women.
"It's come a long way in the nine years I've been here," Rawson said.
In Rawson's view, the next step for the A&M equestrian program should be better facilities. Aggie riders practice and compete at the Freeman Arena, which Rawson said is not big enough to accommodate the program's growing roster and herd of more than 40 horses.
A&M's varsity program formerly competed in the Intercollegiate Horse Show Association, which included schools with club teams. Last year, the Aggies competed in the IHSA and the first varsity championships, with A&M finishing third at nationals.
This season, the Aggies dropped the IHSA meet to concentrate on the varsity championships, which will be held at Heart O' Texas Coliseum in Waco on Wednesday, Thursday and Friday.
"It's a little frustrating that we are still considered an emerging sport," Rawson said. "As far as we are concerned, we have some big dogs that we are competing against. There's tougher competition than in some of these other sports, and I think a lot of people don't realize that.
"Even when we do have a Big 12 Championship and an NCAA Championship, the competition now is going to be just as tough as it's going to be then. Our girls still have to work just as hard, even though they don't get the recognition of it being a Big 12 or NCAA championship. It's just a matter of wording as far as we're concerned."
Brooks and junior Katie Henion, who is one of A&M's English riders, said they spend at least 8 hours per week practicing their riding skills. The Aggie riders also have three 1-hour sessions each week lifting weights at the Netum Steed facility.
Other A&M athletes have been surprised the first time they encountered Aggie riders in the weight room.
"The other athletes will ask if we think it's as hard as their sport," Brooks said. "I think it's hard in a different way. We have to control four feet, a whole other heart and brain and our own at the same time and deal with the stresses of being on a team. A normal athlete only has to work about controlling their body and the ball."
Henion said she is having a ball riding for the Aggies. The lure of the A&M equestrian program was strong enough to convince the graduate of Austin Anderson High School to break from family tradition.
"Because we're in Austin and all my family went to UT, I wasn't really interested in coming to A&M originally," Henion said. "But then I started talking to some friends about the equestrian team. I came out and took a look, and I loved it."
A&M director of athletics Bill Byrne loves how the equestrian program helps his department address Title IX legislation, which requires NCAA schools to have gender participation rates in intercollegiate sports that equate to the schools' overall percentage of men and women students.
"With A&M having about 50 percent men and 50 percent women as graduates, we need to have about an equal number of participants for men and women," Byrne said. "There's no equivalent sport to football in the NCAA. One of the close ones is equestrian. We may have a roster of 135 on the football team. We'll have a roster of less than 100 for equestrian, but that's certainly a much bigger number than almost any squad we can add."
The Internet site varsity equestrian.com has a section for prospective schools that features a message from Byrne about the benefits of having an equestrian team. A&M representatives, including Rawson and Hurley, set up information tables at sites of the annual meetings of the NCAA and the National Association of Collegiate Directors of Athletics, hoping to get administrators to think about adding equestrian.
Hurley finds hope in the fact that the NCAA began to sanction women's bowling in 2004.
With two years of eligibility remaining, Brooks likely won't get to ride for an NCAA Championship trophy. She hopes to become a college assistant coach, though, and she's planning on coaching for an NCAA title.
"It's never going to have the same aura around it as football at A&M because of football's history," Brooks said, "but I definitely think that it's going to be an NCAA sport."
---
NOTES - The varsity championships include 12 teams in both the Western and Hunter Seat (English) disciplines. The Aggie Western team is seeded first and will open against the winner between eighth seed Baylor and ninth seed Fresno State. A&M's Hunter Seat riders are seeded fifth and will face 12th seed SMU in the first round.